Ministering in the Secular University- A Guide for Christian Professors and Staff
Joseph McRae Mellichamp

---

Dr. Joseph McRae Mellichamp is Emeritus Professor of Management Science in the Manderson Graduate School of Business at the University of Alabama and National Faculty Representative for Christian Leadership Ministries. For 25 years, Dr. Mellichamp combined successful academic pursuits with effective Christian ministry activities.




---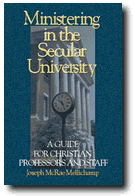 In the past 100 years, Christianity has been relegated to the unimportant or trivial regions of the university. Today, there is no place in the university for Christian thought -- no place in the curriculum for Christian ideals and no place in the university's research enterprise for Christian ideas. What is to be done about this?
The issue must be addressed on two fronts -- an intellectual front and a personal front. The intellectual front has to do with the appropriate role of Christianity in the university. The personal front has to do with how Christian academics attempt to impact students, associates, and individual universities for Christ. This book is for the serious Christian academic concerned with having an impact for Christ in the university.
About the Author

Dr. Joseph McRae Mellichamp is Emeritus Professor of Management Science in the Manderson Graduate School of Business at the University of Alabama and National Faculty Representative for Christian Leadership Ministries. For 25 years, Dr. Mellichamp combined successful academic pursuits with effective Christian ministry activities.
Dr. Mellichamp has published refereed articles in such journals as Management Science, Decision Sciences, Expert Systems, Interfaces, IEEE Transactions on Software Engineering, The Journal of Intelligent Manufacturing, Simulation, IEEE Networks, and The Harvard Business Review. He was principal investigator for contract research projects totaling over $1.25 million and served as a consultant to AT&T, General Motors, N.A.S.A. (The Space Shuttle Program), and the U.S. Army (Strategic Defense Initiative).
In addition, Dr. Mellichamp has been an Associate Staff member of Campus Crusade for Christ since 1972 and helped to found Christian Leadership Ministries, the faculty ministry of Campus Crusade for Christ, which networks thousands of Christian professors on hundreds of university campuses in the U.S. and abroad. He helped to develop many of the ministry strategies and materials used within Christian Leadership Ministries. And he also founded the Christian Faculty/Staff Fellowship at the University of Alabama and directed the group for 20 years.
Contents
Part One: Ministering Individually
1. Identify Yourself as a Christian
The Personal Testimony
Grades and Time Management Talks
Other Ministry Talks
Position Papers/Talks
Issues Papers/Talks
Success Papers/Talks
Bible Studies
Video Discussion Series
Lunch with the Professor
In Your Home
Christian Student Ministries
Hosting International Students
Book Studies
Discussion Series
Bible Studies
Mentoring
Specialized Courses
Secular Publications
Christian Publications
Part Two: Ministering With Others On Campus
7. The Christian Faculty/Staff Fellowship
Purpose
Structure
Activities
Getting Organized
Meeting Mechanics
Small Groups
Events
Newspaper Ads
Every Student's Choice
Letters to the Editor
Op-Ed Pieces
Arrangements
The Event
Follow-Up
The Faculty Forum
The Veritas Forum
Freshman Orientation
International Students
Part Three: Ministering With Others Nationally and Internationally
17. Christian Leadership Ministries Involvement
Christian Leadership Ministries Conferences
Faculty Affiliates
19. Organizing Christian Faculty/Staff Fellowships
U.S. Travel
International Travel
---
© Copyright 1997, Joseph McRae Mellichamp