Only a Professor . . .
Stan Oakes

---

Stan Oakes founded Christian Leadership Ministries in 1980 to network Christian academics and encourage them in the unique contribution they can make in the university.




---
The controversy at the University of South Carolina threatened to develop into a lasting conflict.
There was, on one side, the concerned Christian community, and on the other, unyielding university administrators. And in the middle, a homosexual activist professor and his summer course of "combating" the "challenge" of the Christian "fundamentalist phenomenon . . . to public education."
Then a Christian professor stepped in. The efforts of just one Christian professor created a solution which not only defused the controversy, but redirected the course to give fair treatment on a very thorny issue.
The University of South Carolina offered its summer course entitled "Christian Fundamentalism and Public Education" to local public school teachers and graduate students in education. When the Christian community became aware of the course and its description, Christian leaders were soon exchanging volleys with the gay professor over his slanted course, and the president's office was fielding dozens of calls in protest.
Local Christians would not be satisfied with anything less than a cancellation of the course. But administrators were in a difficult position; if they succumbed to the pressure, they could face repercussions from professors and militant gay activists, but if they turned a deaf ear to the community, they would alienate their local support base.

Dr. Jim Carper, professor of education and an outspoken Christian on campus, saw how his position as a professor and a Christian presented him with an advantage over community members.
He decided to meet personally with the homosexual faculty member, Dr. Jim Sears, to determine his intent for the course.
Sears, author of Growing up Gay in the South, admitted to Carper that at the very least he had used a poor choice of words in the course description. He said he was willing to have discussion on both sides of the issue.
Since Sears respected Carper as an educator and knew him to be an outspoken Christian, he invited Carper to assist in assembling lecturers who could present the Christian point of view.
Carper went directly to his office after the meeting and spent the next three hours typing a suggested bibliography and a list of Christian speakers who, if available, would contribute to the class content.
As a result, the public school teachers and future teachers attending the course heard lectures from key Christian thinkers such as First Amendment expert Mike McConnell; Richard John Neuhaus, editor of the First Things journal; and University of Notre Dame scholar, Dr. George Marsden.
Working with Carper, Dr. Sears reportedly changed his own mind about Christians and their role in education.
No One Else Can Do It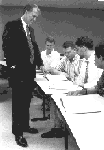 What is unique about Christian professors that just one could make such a difference?
No one else but Christian professors can fill the spiritual vacuum in higher education today; their role is unique in this marketplace of ideas. In fact, Christian professors fill several roles which affect the university on many levels. As you will see, this involvement plays a great part in the fulfillment of the Great Commission.
As teachers, Christian professors have direct contact with hundreds of students each year. Their verbal witness leads many to faith in Christ and points many others to a thoughtful Christian perspective. In contrast to what students hear elsewhere in the university setting, Christian professors can show them that they do not have to divorce their minds from religious belief, or abandon faith altogether.
Christian professors are teaching the future leaders and architects of society. Many in the Christian community today are dissatisfied with the moral, ethical, and philosophical mindset of the leaders of our country. It is important to note these values are most often formed in the university, especially in the social sciences and humanities.
Christian professors have a unique opportunity to instill the insights of Christianity into our future teachers, lawyers, lawmakers, doctors, executives, and journalists. That is, Biblical explanations of man's relationship with God, himself, society, and our world. Professors can form a student's world view which will remain with him or her as long as they live.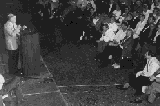 Faculty interact daily with other faculty members. Christian professors who live an upright life before their colleagues can take opportunities to explain in a friendly fashion how and why they live and work the way they do.
As philosophers, scientists, and engineers, Christian professors directly affect society through their research, advice, and opinion. Their work often helps to counterbalance other viewpoints emanating from a non-Christian perspective.
As mature Christians, professors are a source of hope and help to Christian graduate students, and they often serve as spiritual mentors in their lives. These professors' Christian witness inspires students to practice and verbalize their faith as well.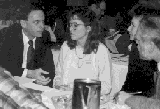 Also, as "salt and light," Christian professors can help to slow and even blunt the efforts of individuals on campus who seek to limit the free speech of Christian faculty and students.
Christian professors can have a significant influence worldwide as well. Whether traveling overseas with CLM or working with international students, Christian professors play a unique role in reaching out to the "best and brightest" of the world.
Christian Leadership Ministries was created in 1980 to assist Christian professors in each of the unique roles they play in the university. The ministry exists to serve faculty and administrators in their efforts to be Christians in academia.
Christian professors associated with CLM for 15 years have developed tested strategies and resources to equip faculty for ministry-both intellectual and spiritual.
A team of professional field staff around the country is dedicated to helping Christian professors reach their potential on campus. The CLM team members average 18 years on staff with Campus Crusade for Christ, which demonstrates a significant depth of experience.
A special body of faculty leaders, called CLM Faculty Affiliates, help to model and facilitate ministry on campus as well.
CLM is also dedicated to preserving an environment in which Christian faculty feel confident to express their beliefs. The Free Speech Project, directed by Dr. Scott Luley, exists to inform faculty of their constitutional rights and give legal assistance.
The professional staff in our national office in Dallas provides publications, video workshops, books, training, conferences and a number of other resources to prepare Christian faculty for ministry and to help them become more effective in their witness.
Christian Leadership has experience not only in building faculty in their personal ministry, but in their intellectual endeavors as well. CLM publishes and promotes books in science, history and the humanities which feature arguments for intelligent design and Christian truth and ethics.
Christian Leadership encourages Christian professors to make themselves available to Christ for His unique work through them. We believe Christian faculty in the university setting are an irreplaceable and unique asset in God's plan to fulfill the Great Commission and influence the university.
Christians historically have helped to establish the majority of the great universities of the world. Gradually these influential institutions have been secularized. Now it is our task to give the university a new generation of powerful, attractive, and persuasive Christian thinkers, teachers, and leaders. We look forward to our new relationship with you.
---
To contact us via electronic mail, send a message to clm@clm.org. You are reading this through our Leadership University site on the World Wide Web. This site contains many resources to assist you in your ministry.