My Favorite Idea for Ministry
Four professors share their favorite idea for ministering as a Christian professor on campus
---
A Ministry Tool That Has It All
Dr. Byron Johnson, Professor and Director, Center for Justice Research and Education, Lamar University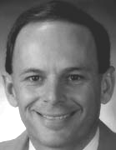 I and my Christian colleagues have experimented with a number of different ministry ideas on the campus. Some have worked well and others haven't. However, this past year we were delightfully surprised at the outcome of our latest ministry tool geared toward faculty.
It began with a visit from Rae and Peggy Mellichamp. Rae is a recently retired professor who is now on staff with Christian Leadership Ministries full-time. Rae came to our campus to give a talk on tenure to a group of professors that we, the Christian faculty, had invited. At the conclusion of his talk, Rae asked the attendees to each complete a response card. Rae gave me the cards and challenged me to contact those who had indicated an interest in more information about how to manage their lives.
Though very apprehensive, I contacted the five assistant professors who had indicated an interest in more information and invited them to participate in a discussion group based on Steven Covey's best selling book The Seven Habits of Highly Effective People (Simon and Schuster, 1989). (See The Seven Habits Discussion Notes). Imagine my surprise and delight when every one of the assistant professors gladly accepted the invitation. I immediately went to the book store and bought copies of the book for the members of the group.
Over the rest of the year I met with the five others once a week to discuss readings from Covey's book. What happened during our time together was truly exciting. A bond developed between us, and the group began to develop its own identity. We called ourselves The Habits Group (there is no telling what habit people thought we shared). We reserved a room every week in the student center for our meeting, which officially lasted only one hour. Invariably, spiritual and moral topics surfaced in almost every meeting. I never once had to bring up God or faith, because they would bring it up first.
The questions the assistant professors asked centered around family, values, and principles, and typically they were answered with "Covey quotes" that are consistent with a Christian World View (e.g. "Begin with the end in mind"). Instead of saying, "let's see what the Bible says," as the group leader, I would say something like, "What would Covey say?" And Covey would "say" we should base our decisions on our prin ciples and valuesno matter what our feelings, we need to do those kinds of things that we know are right.
We invited the members of the group and their families to our house for dinner after the first semester. This was important because they got a chance to see our family, as Christians, interacting with each other. Since these were all young assistant professors, just getting started in their careers and families, it was obvious that they looked to my wife and I as role models. What a blessing it was to open our home to them.
We had our last meeting of the year at our house and the group presented me with five new copies of the book (i.e. Seven Habits). They told me I had challenged them to get their lives in order, and that they were now challenging me to start the same group at the university for which I had just accepted a new position.
The study group is a great ministry tool requiring little cost and/or time investment. The impact potential is profound in that it meets an important felt-need: preparing faculty for tenure. The study group idea opens doors for evangelism and discipleship, as well as reaching out to families. I can't think of a better way to reach out to faculty. By doing something like the Seven Habits group, we are filling a void that universities and departments typically are not filling.
---
The Relationship Begins on the First Day of Class
By Dr. Sung Joon Jang, Assistant Professor, Sociology, Ohio State University


Effective communication of my faith to students requires a good relationship between myself as an instruc tor and my students.
Since I don't have much time to build such relationships with each class I teach (only 10 weeks), I start right from the first day of class. For this purpose, I let them know what kind of an instructor they are going to have throughout a quarter. Specifically, I provide a detailed description of myself including how to pro nounce my name given that mine is a foreign name. I include my personal background (e.g., how old I am, when I came to the U.S., etc.), which is followed by my family and academic backgrounds. Sharing the "personal" side of me with students always help them see their instructor as "normal" human being rather than the "absent-minded professor."
As an effort to more effectively "break the ice" and reduce social distance between myself and students, I add the sense of humor to my presentation. For example, I never failed to crack up my students by saying, "I have ONE (instead "a") wife" (students come to see that I said it that way to make a point later when they hear about my Christian faith) or "You don't have to worry about taking a course with an illegal immigrant." In so doing, I create an informal, non-threatening, and open-minded learning atmosphere.
Once I create a relaxing environment with a "soft" portion of self-introduction, I slowly move to a "hard" portion by beginning to talk about my worldview background. After briefly explaining what worldview is for those students who are not familiar with the terminology, I say that my worldview is Judeo-Christian theistic realism and the most important thing in my life is my personal relationship with the Lord Jesus Christ who is my Savior. When I do this I try not to be apologetic, but rather I emphasize that revealing who I really am benefits students by helping them understand where I'm coming from. In addition, making underlying worldviews explicit greatly helps our future class discussion.
I also make it clear that it is not my intention to impose my beliefs upon or proselytize students because such thing is not right and that is not how we come to have beliefs. During this presentation, I see no more smiling faces, but instead I see some shocked faces. So, this frozen atmosphere should be taken care of. I do so by telling them about sports I like and my favorite sports teams, about which I typically get yeah and boo from students, and they smile again.
The general principle that I follow in my effort to eliminate the social distance is "speaking the truth in love" (Eph. 4:15a). I challenge my students by setting high standards for them to meet and professing what I believe as truth. But, at the same time, I make conscious efforts to let them know that I do care about them, their lives as well as their learning. For this, I memorize 90-95 percent of my students' names during the first four weeks of class, and then I call them by their names during class discussions instead of just pointing to them. I also collect their personal information on the first day of class, and read them over several times throughout a quarter so that I may know my students individually and use such knowledge to create a better learning environment.
When my students come to know that I am not just another easy-going, nice guy nor a cold-blooded teach ing machine, I find them beginning to open their minds and hearts even when they do not necessarily agree with my faith and my stance.
---
Competition and the Ultimate Award
By Dr. Rob Redfield, Engineering, Texas A&M University
I have engineering classes where I assign projects to individuals or groups that help the students use many of their resources and synthesize a diversity of knowledge. Often these projects have the goal of designing systems that have measurable levels of performance.
I have often set up a competition to see who can design a system to perform best under what I hope is a narrow enough set of constraints to make it fair. The winner(s) of the competition get treated to lunch by me, but the whole class is invited.
This "outing" gives me an opportunity out of the context of the university to build relationships with stu dents, let them know more of who I am, and communicate about non academic topics. Often I am able to share what God has done in various areas of my life and be a witness for His greatness.
In my experience this type of ministry effort works best if the class size is small enough or attendance is regulated to about 10 students or less. Students look forward to and appreciate this personal attention with "the prof."
Sometimes I will just invite the whole class out to lunch where I pay for everyone, but the caveat is that I get to tell them about my faith in Jesus. I let them know this up front and I schedule the lunch after all the grades are turned in for the semester.
---
A Marathoner's View of Ministry
By Dr. Phillip Bishop, Chairman, Human Performance Studies, University of Alabama
"If Christianity were a 50 yard dash, we'd all do fabulously, but in truth, Christianity is a marathon."--Howard Hendricks
If we're going to have major impact on the university, we have to take the long-term view. A single ministry aspect, no matter how exciting, no matter how creative, and no matter how effective won't do it. Or at least it hasn't yet.
What is a marathoner's view of the best ministry for a faculty member? Start a weekly meeting of Christian faculty, staff and students on your campus. It's not glamorous or exciting, but it provides an opportunity to train, challenge, and disciple. A weekly meeting encourages, organizes, and gives substance and permanence to ministry. (See The Christian Faculty-Staff Fellowship).
On our campus we meet weekly with two goals in mind: to equip our people 1) to reach every aspect of our campus for Christ, and 2) to achieve professional excellence. This is not a Bible study, most of our folks are very well versed (pun alert) in Scripture. Most of our speakers come from our own faculty fellowship mem bership. We try to reserve one meeting a month to pray together.
A weekly meeting requires only three things to be successful: a place to meet, an agenda, and someone to assume responsibility. Every campus can easily have the first two. The last requirement is the toughest. Perhaps God has called you to that position.